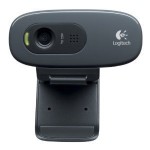 1.Megapixels – The megapixels are the tiny dots of colour that, when combined, make the resulting visual image. A webcam with more megapixels will result in a clearer more vivid image. Most webcams now will provide a reasonable image quality; the general advice is a webcam that has 320 X 240 or 640 X 480 pixels for a good image. If you have the functionality of HD, consider a webcam of 1280 X 720 pixels.
2.Frame Rate – As the megapixels deal with image and colour vividness, the frame rate is what controls how smooth the video quality is. Frame Rate decides how many images per second are displayed. 30fps (frames per second) is more than suitable for a standard use webcam. Smoother, higher quality moving image should consider a webcam with the capabilities of 60fps.
3.Lens Quality – the lens is the first stage in the video process therefore it is vital that you have the correct lens to cater for your needs. A webcam with a glass lens is much better than one with a plastic lens.
4.Continuous Autofocus – In many scenarios there can be a lot of activity happening during a webcam session, autofocus (AF) enables the webcam to keep you as the main focus rather than diverting to other movements within the frame.
5.Low Light Quality – If you tend to use your webcam during the evening or in low light conditions, the resulting image quality can be very poor. Logitech have developed 'Right Light' in some of their webcams. This enables the image quality to be optimised in these poor light conditions.